The Kilby Awards
Kilby Laureates
Kilby Broadcasts
News & Events
The Foundation


For Immediate Release
Contact:
Betsy Guthrie
214-768-3355
betsy@kilby.org
The Kilby International Awards Foundation welcomes European Countess to Texas, Countess Sonja Bernadotte, President of the Lennart Bernadotte Foundation and host of the Annual Lindau Meetings of the Nobel Prizewinners.
Dallas, Texas -- June 14, 1999 -- Countess Sonja Bernadotte, President of the Lennart Bernadotte Foundation, was hosted by Trustees of the Kilby International Awards Foundation in Texas for a weekend of discussion and festivities. Hosted by the Chairman, Victoria Smith Downing and the Jury Chairman, Dr. Johann Deisenhofer, the Countess attended the finals of the Van Cliburn International Amateur Piano Competition in Fort Worth and later was introduced to Dallas business and social leadership at a reception at the home of Lucy and Henry Billingsley.
The purpose of the visit was to discuss collaboration between the Bernadotte Foundation and the Kilby International Awards Foundation in the achievement of mutual goals to provide extraordinary role models for young people throughout society. The Bernadotte Foundation annually hosts the meetings of the Nobel prizewinners on the Isle of Mainau in Lake Constance on the borders of Germany, Switzerland, and Austria and invites a select group of young people to join these outstanding Laureates for interaction and dialogue. The Countess will in the future invite young American university students to become part of this event. In the past, participants have been limited to Europeans.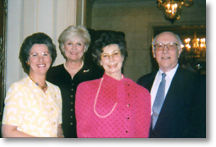 The Kilby International Awards are given annually to candidates nominated from throughout the world. These Kilby Laureates are recognized for "Significant Contributions to Society through Science, Technology, Innovation, Invention, and Education." The Mission of the Kilby Awards Foundation is to identify, celebrate and provide heroic role models for future generations, the leaders of the 21st Century. In 1999, The Kilby International Awards were named one of the "116 Most Distinguished Awards in the World" by the International Congress of Distinguished Awards, following a five year study of 26,400 awards programs worldwide.
"We are delighted to support the work of the Bernadotte Foundation, and we appreciate the invitation of the Countess to participate in this effort to bring young students into a unique opportunity for interaction with the superb role models that are the Nobel Laureates. We are quite proud of our own Dr. Richard Smalley, Kilby Laureate of 1992, who later won the Nobel Prize in 1996 and our distinguished Jury Chairman, Dr. Johann Deisenhofer, who received the Nobel Prize in 1988. The visit of the Countess Bernadotte has been a pleasure for the Kilby Trustees and friends and an honor for the Foundation," said Victoria Smith Downing, Chairman, Board of Trustees.